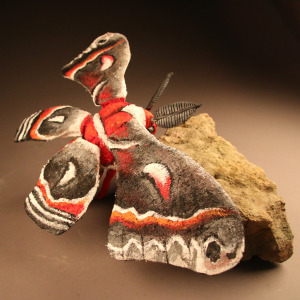 Premise:
In this project the student is asked to create a sculptural form from wood material. The form does not necessarily need to look like a specific thing. It may be non-objective if desired. If the goal is to create a representation of a real object, a model should be made available. As a basis 2×4 material may be purchased. Students are expected to acquire their own materials for the project.
Scale:
A composition of two feet in one direction is expected.
Sketchbook Assignment:
Sketches of your chosen object should be rendered before and during sculpting. A minimum of four pages should be dedicated to this sketching component. In addition, find four wooden sculptures that inspire you. Printed images of these sculpture or objects should be placed in your sketch book. Your sketch book will be graded along with your project.
Wood Shop:
Before cutting any materials in the wood shop, Make sure all staples and metals are removed from the wood material. Make an extra effort to affirm that no screws or nails remain in purchased or reclaimed wood.
Using the table saw, trim the rounded corners from each 2×4 and other milled wood. This will assist in hiding seems when wood is laminated together.
Each students must use the band saw, reciprocating saw/jig saw, table saw, drill press and compound miter saw in the forms construction. Hand tools should be used as well, files rasp, grinders etc.
Finish:
The forms may be painted. Remember, paint does not necessarily make wood look like something else. If one can see wood grain through the paint then, the form still looks like it's made from wood. Other surface treatment method may be used with instructor approval.
Glue, nails, screws, or any other means may be used to attach the wood forms together if needed. Challenge the norm, what other material can be used to fasten this material together. Remember, make an extra effort to affirm that no screws or nails remain in wood before sawing the material.
Challenge yourself in how you might subvert the inherent qualities of the material.
What does it take to push something visually beyond what it initially begins as?
Note: Do not use other material to sculpt the object or its components. Focus on utilizing wood as the main source of material for the construction of the form.
Inspiration:
Project Examples: