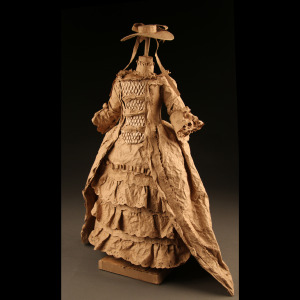 In this project you are to use reclaimed cardboard to render everyday objects. The cardboard structures emphasize the importance of reusing and recycling materials and should provide an inspiring example of creative thought and innovation through repurposing materials.
Mission: (Project Description)
Your mission is to build a mechanical object from the structural and aesthetic qualities of cardboard. Using cardboard, adhesives and possibly some fasteners (such as string, nails and screws) you will be building a 3 dimensional duplication of a mechanical object/device. The finished form should be at least 18 inches in one dimension. Glues are allowed on this project. Tapes or fasteners may be used as well. Hide them and use them strategically, to develop a consistently crafted object. Think: craftsmanship!. Folding, cutting, de-lamination, lamination methods and strategically placing cardboard in a consistent structural method should be a goal. Conservation of materials should be considered as well. Size and weight of the final object is a usual obstacle for sculptors.
Project Description:
Find and choose a mechanical object to model
Begin by planning and drawing: Experiment with cardboard, illustration board, foam core, or thick papers to learn how structures can be built.
Sketchbook Assignment:
Five pages of notes and drawings for this project is required: Draw at least 5 views; a top, a side, a front, a back, a bottom, and perspective views. Details should be considered, as well. One drawing per page. Printed photos can be added as well. You should consider on each of these drawings, details on how you plan to structure or put your piece together. Measuring and recording your dimensions here will also assists in your mission.
Scale:
Drawing and measuring is good research and development. The object you chose will be scaled to at least 18 inches in one dimension. Use "Multiplication" to Scale your object. Example: If your original object is six inches in its longest dimension. You will need to scale the object up three times its original size to achieve the 18 inch finished dimension. Ergo each component part's measurement will be multiplied by three.
Maquettea:
Small maquettes with paper or illustration board as a starting point will allow you to work out a lot of unforeseen issues when you get to the building stage of your project.
Modular:
If you chose to make your form modular, assembles and disassembles for transport and storage, consider the following. While cutting openings for interlocking card board pieces make the openings large enough so that assemblage and break down are easily done without any damage to your piece.
Production:
The cutting room floor: Your task is to develop a 3-dimensional solution to this problem, with a clean approach to aesthetics (Good Design), good to excellent craftsmanship and a conservative use of materials. THe finished piece must be 18 inches or greater in one of its dimensions. A major goal is to construct the form entirely of cardboard and glue.
NOTE: Please refrain from cutting on the table surfaces. Use a matt of cardboard or other material if you use the table. The floor works well to give one space to work and cut without damaging the table surfaces.
Tools and Materials:
Utility Knife/ Exacto knife
Tape
Wood glue
Cardboard
Cardboard paper
Pencils
Rulers and Measuring tapes
The Wood shop
Objectives:
Material Characteristics:
Cardboard: Structural and Aesthetic qualities
Method: Planning, Cutting Safely, Building techniques and strategies
Sensibility to form: Good design, clean aesthetics
Integrity of the artist to their craft
Research/Inspiration:
Project Gallery