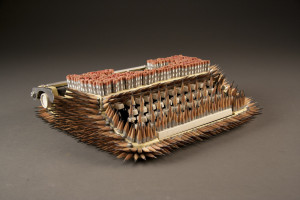 Mission: (Project Description)
Within this project, we will bring into question the "skin" of an object, and how alterations to it, alters our own perceptions of the object.  Many artists, such as, Meret Oppenheim, Lucas Samaras, and Joseph Beuys, have pursued this concept creating works that question or negate an objects original function.  The simple manipulation of a surface can allow strong conceptual narratives to develop, speaking to a greater importance beyond the original object.
Transform: v.  1 make a thorough or dramatic change in the form, appearance, character, etc.
Mission:
Bring to class three (3 dimensional) objects.
Object should not be smaller than 12 inches or larger than 24 inches.
A class discussion of objects will occur.
Consider the objects conceptual importance relative to its potential transformation.
Select one object from the initial three. Select the object with a strong visual presence.
Students should select one material in which to cover the chosen object.  This material should be an antithesis to the original object, or draw into question the function or accepted meaning of the object.
Repetition and a obsessive development of the surface is a critical component of developing this project. Choose a material that will draw emphasis to this concept.
Objects must be completely covered by the chosen material. Students should focus on the obsessive nature involved in covering the objects.
Project Vocabulary: 
Pattern
Texture
Variety
Rhythm
Direction
Movement
Repetition
Contrast
Natural Texture
Visual Texture
Worked Texture
Writing Assignment:
Use the vocabulary on the previous list along with other elements and Principles of Design to describe and interpret your work. The writing assignment should include your critique on the content and context and how these factors contribute to the concept of the work you have created. A general description of formal qualities should be addressed as they pertain to the concept, yet a stronger focus on content, context, and of course the idea (Concept) will foster a stronger discussion.
Look at the work analytically.
Remove yourself from the work to create new perspectives.
Be attentive to your gut reactions to the work.
Make notes of your observations" as reference. (In your sketch book)
Insert an image or sketch of your work within the word or pages document.
Content: Three to four paragraphs of text should be written before adding images.
Note: A paragraph is made up of three to five sentences.
Tools and Materials:
Eye Protection/Safety Glasses
Sketch Book
Utility Knife
Hobby knife
Dust Mask/Particulate Respirator
Safety Glasses
Focus Object
Materials for skin
Mixed media
Adhesives or other fastening materials
Rubber or Latex gloves (optional)
Create a label for your project with these specifics:
Name:
Dimensions: HWD
Materials:
Year Complete:
Course:
Tape your label to your project. Use masking tape so that it will not harm your project.
Objectives:
Method: Planning, Cutting Safely, Building techniques and strategies
Material Characteristics:
Three-Dimensional surfaces and skin transformations
Aesthetic qualities
Sensibility to form: Good design, clean aesthetics
Integrity of the artist to their craft
Concept from objects
Evaluation:
Work ethic: Participation in and out of class
Scheduling: Students stay on task, project finished by deadline, critique.
Craftsmanship and aesthetics.
Attention to detail and craft involved in the development of the object's "skin" will be taken into consideration during grading and critique.  Therefore, ample time should be devoted to the completion of the project.
Caution:
This process may use chemicals and materials that might be dangerous for some people. Read the MSDS (Material Safety Data Sheet) for questionable materials. A respirator should be used when materials off gas or fume. A dust mask may be used rather than a respirator. The respirator will provide better protection.
Research/Inspiration: 
Project Gallery